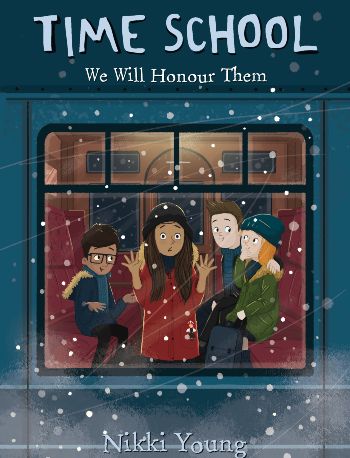 Time School: We Will Honour Them follows the release of Time School: We Will Honour Them on World Book Day 2020.
Nadia Kaminski knows very little about her Polish grandfather so how is she going to write a speech about him to read at his funeral? She's never really considered her Polish roots, so a trip back in time to time (to the end of the Second World War) and an encounter with Marcel, a Polish refugee, might be just what Nadia needs.
Along with fellow time-travellers, Jess, Tomma and Ash, this is the group's second experience of Hickley School in the past, and a chance to discover the struggles of those who found themselves stranded in a country that wasn't their own.
It's time to board the train for another exciting journey back in time.
Free gift wrapping included!
About the author
Nikki Young is a freelance writer, copywriter and author. She lives in Kent with her husband, three children, a crazy Boston Terrier dog called, Barnie and a rescue cat named, Oscar. She is the author of 'The Mystery of the Disappearing Underpants' an adventure story aimed at seven to nine year-olds and reluctant readers.
Nikki also writes health-related articles, reviews and recipes on her blog, 'A free-from life'. This blog was a finalist in the 2017 UK Allergy Blog Awards, recognising its provision of health information for food allergy and intolerance sufferers.
Her background is in nutrition, so maintaining a healthy, happy family is extremely important to her. Having a son and a husband, both with different dietary needs has been a challenge and one which has tested her knowledge.
As well as writing middle grade and young adult fiction, Nikki runs Storymakers, a creative writing club for children, which provides weekly courses and holiday workshops for children aged seven and above.